If you wish to terminate your account on Paybis.com, you should follow these steps.
1. Log in to your Paybis account and go to the member's area.
2. In the top-right corner, you should see the options as shown below: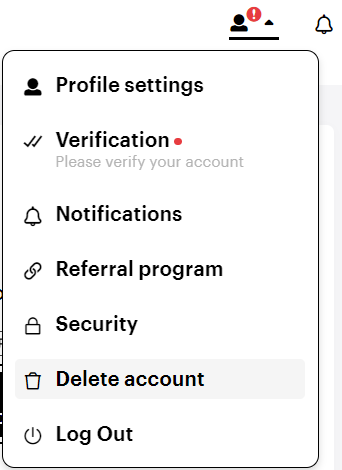 3. Click on Delete account from the menu and carefully read the information visible on the screen.
4. Click on "Delete account" at the bottom of your screen.
4. Your request will be processed within 5 days. Our team will get back to you via email once your request has been processed.
Alternatively, you can also send us a message to support@paybis.com from your registered e-mail* on our platform stating the reason for your account deletion and we will process your request. Once we receive your request, it will be processed as soon as possible.
All your personal and account data will be kept for 5 years as per requirements of the applicable regulations

You are more than welcome to create a new account on our page using a different e-mail address.
*if you lost access to your e-mail, please contact us via live chat and we will guide you.